Kim has the qualification level that is required for health fund rebates.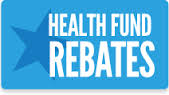 Please check with your fund to see if they cover kinesiology, as different funds and different levels of cover vary.
Here is a general list of funds that cover kinesiology.
Australian Health Management

Australian Unity

BUPA (including MBF, HBA, Mutual Community, ANZ Health Insurance, St George Health) (C113678)

CBHS

CUA

Medibank Private (1541216J)

Grand United Health (21166432)

health.com.au

Healthcare Insurance

Health Partners

HBF (B30674)

HCF as Manchester Unity only

Reserve Bank Health Society

Teachers Health

Transport Health
AKA – 3673
ATMS –  22460K
WARNING:
Labor and the Coalition are about to scrap the private health insurance rebate on natural therapies, DRIVING UP THE COST OF HEALTH CARE.
This will negatively impact the 28,000 small businesses who operate in the industry and will make it harder for Australians to access natural therapy treatments.
Did you know natural therapies make up less than 1% of all benefits paid by health funds? This measure will make little difference to private health insurance premiums, and is a direct attack on natural therapy practitioners and Australians who rely on these treatments.
Natural therapies must be included in the private health rebate scheme so that Australians have more choice when it comes to looking after their health and wellbeing.
We can't stop this without your help. Tell Health Minister Greg Hunt and Labor's Catherine King to KEEP THE REBATE ON NATURAL THERAPIES!